· Facing Bricks are timeless and ageless. They don't need remodeling.

· Environment friendly and has excellent esthetic features of a natural product.

· Due to long lasting life, it has many advantages compared to other facing materials.

· Use of facing bricks eliminate the surface disorders caused during the different phases of construction.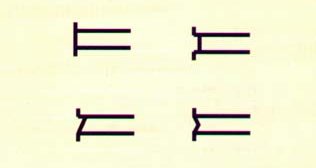 SPACING TYPES
1. Stack Laying(Vertical)


2. Plain Laying


3. Crosswise Laying


4. Crosswise Laying


5. Crosswise Laying


6. Stack Laying (Horizontal)


Important facts for the application of
facing bricks:
1) When mixing the mortar use portland cement, prewashed sand and small amount of water. Do not use lime.

2) Before laying, moisten the bricks.

3) In cold and wet weather, protect the wall from external effects.

4) During application, use facing brick accessories or different laying types to prevent the exposure of the brick holes to external effects.

5) Spacings should be even and 8-10 mm. thick. Let the spacing filler to dry a little bit before shapening the spacing.